Choose
SeaSideTech

  Trust
Based on the empowerment of each employee, the assignment of tasks according to each person's skills and the conviction that each person is important to the success of the company.
  Listening
Our business is based on people, which is why listening is a key element within our team, along with the kindness and respect necessary for the professional and personal development of each person.
  Kindness
Working in a good mood on interesting and technically demanding projects requires mutual support and collaboration between the various skills involved in a project. All our employees are attentive to each other's well-being, and the team spirit is highly developed among our employees.
  Rigour
The projects we develop are key elements in the systems in which they are implemented. The dimension of functional safety requires a precise treatment of each customer requirement and a permanent commitment to the quality and reliability of the elements produced.
  Commitment
Characterized by a positive, supportive and stimulating work environment, a strong commitment to increasing competence, autonomy and initiative.
Join us
Working at SeaSideTech means immersing yourself in innovative projects at the cutting edge of the state of the art in embedded electronics, in a family and collaborative atmosphere. The success of our employees is as important as the success of our projects and is based on our values: Trust, listening, caring, rigor and commitment.
Open Positions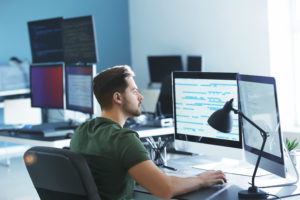 Bonjour à tous, SeaSideTech SAS continue sa croissance et souhaite se renforcer dans son coeur métier. Nous recrutons donc des…